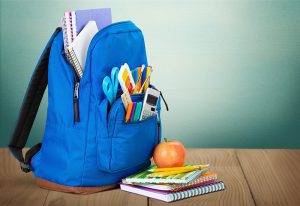 Are you prepared for another school year? I recently looked at the list of supplies that some schools are asking for and it can easily become overwhelming – especially for the students to keep organized.
Preparedness – what does that mean? Webster defines it as, "the quality or state of being prepared." To be prepared, means you are ready to do or deal with something. Let's use that as our "working definition" for back to school. What does your family need to do to be prepared for back to school?
Let's break it down into three big categories:
1. Routines
2. Organization
3. Supplies
Routines
Let's start getting kids to bed earlier and waking them up around the time they will need to get up for school. Sometimes we like to use just enough time to get up and out the door and others need wake up time, time for meds to kick in or just a slow wake up – so make sure you allow enough time for whatever your kids need.
Morning routines are easiest if there is a set order to the actions the kids need to do and they have memorized that order. Having a list that they can check if they forget, may save you from repeating yourself (fingers crossed). Also, it is better to ask, "what do you need to do next?" instead of telling them what to do. You might want to set your alarm a bit earlier than that so you have time for yourself to get ready or enjoy that first cup of coffee.
A homework routine that begins around the same time every day and a space to do it in. Doesn't matter where it is, but it should have access to supplies they might need so there are fewer distractions. Minimize distractions and be sure to have a homework buddy your kids can call for help. This is a great time for you to "body double" with kids that have a hard time getting started on their work. Use this time to deal with your paperwork within sight of where your kids are working. Kids can create their own homework routine in our Super Skills for Students Class starting October 4th for Middle and High School students.
Set up for tomorrow including setting clothes out each evening, repacking backpacks and putting them near the door. Figure out what is for snack and/or lunch and breakfast. Make sure ice packs are back in the freezer. Are you heading to work? Pack up what you need and make the decisions tonight rather than in the morning.
Weekly clean out routine on Sunday as you prep for the week ahead. Everyone needs to know what is going on in the next week and having a family meeting can help. A good time to clean out your pocketbook, backpack or bag and maybe a quick check of the car too – how's the gas level?
  Organization
Key organization tips are to have a landing pad near the door where backpacks, jackets and shoes can be left the night before. Good place for your keys, bag and anything leaving the house.
Set up the bedrooms so that kids can easily find their clothes. All clothes should fit into storage whether that is on a shelf, in a bin or basket or in a drawer or closet. The easier to grab, the more likely they will. Too many clothes can often make it difficult to make a decision – help them put together 5 outfits for the week and use a sweater hanger in a closet. Hooks are very handy for sweatshirts, sweaters, etc.
Calendars with the schedule of activities, where everyone can see it and it can be reviewed for those kids that don't like surprises. Advance notice of what is coming up each week and reminders or a visual schedule in a place to be easily seen. Talk about the upcoming year – listen to your child's concerns and take them seriously. Visit the school if they are switching to a new building – make sure they know where the cafeteria is and the bathrooms on each floor and the fastest way to their locker.
Make sure all supplies fit EASILY into the backpack – kids will not fuss with lunchboxes they need to stuff into their backpacks – they are more likely to leave them somewhere. They do not need to take the entire package of #2 pencils with them. Keep the reserves at home along with extra paper, project board, markers, etc. that might be needed for a project. That will save you a trip to the store at the last minute.
Charging all devices in one spot each night.
Write down the necessary passwords and log in steps for accessing grades and homework as well as, remote learning if needed and have your children do the same (get a copy of those).
 Supplies
When buying supplies don't look for the cheapest, but look for the most durable. Kids are rough on their supplies, especially binders. The binders should open easily with one hand, not two and be no bigger than 1.5 inches (it can hold 350 pages)any bigger and it is difficult to fit into the backpack and it weighs more. Backpacks should not weigh more than 10% of your child's weight.
Food – Breakfast ideas that kids can prepare for themselves or make ahead ideas to easily grab.
Have handy snacks, drinks, and lunch supplies or set up the school account (have reserves of their favorites)
Medications for colds and flu, and also covid tests, to have on hand. Masks too, just in case we revert back.
Celebrate by taking a picture before they head out. (Taking an "after" pic might also be memorable.) At the end of the day, celebrate by doing something special but keep it low key as they will be tired. For kids, it is like starting a new job, there are a lot of unknowns but it is also a fresh start and the opportunity to shine. Keeping the stress level down in the home can make it a smoother year. Good luck!
PS Other articles from our Archives you might find helpful
5 Things Your Child Needs to Know Before School Starts
Change Your Mindset – Raise Your Self-Esteem
Five Super Strategies to Knockout Stress