Students
Students can struggle for a variety of reasons. ADD/ADHD, Executive function challenges, and weak study skills can impact homework, organization, time management and test results.
All students want to succeed and many are already working as hard as they think they can, but are still not receiving the grades they are capable of. Something isn't working and continuing to do the same things is not going to change the results. It is time to do something different.
At the Thinking and Doing Skills Center we use a three prong approach to discover what is interfering with your child's success. We work like a sports coach might to strengthen weak skills, teach strategies on how to "play the game" and support and hold them accountable while they develop the new skills, systems and strategies that will transform their learning. Each plan is unique to your child/teen's needs.
During our initial 90 minute meeting we discuss strengths and challenges, gather information on what is and isn't working, and develop a plan to reach new goals. Each subsequent session (usually 60 minutes) uses a combination of coaching, organizing and teaching to help your child understand their challenges, design solutions and test and tweak them if necessary, until they become successful. Isn't it time you gave your son or daughter the skills they need to succeed in school and in life?
Benefits of Working with the Thinking and Doing Skills Center:
Students work to understand ADHD and Executive Function challenges and their impact
Develop skills, systems and strategies that use their strengths and work for them
Manage their time and attention to stay on top of their responsibilities
Learn to break projects into manageable steps so they are completed on time
Become an active learner to retain more information
Structure study time to make it more effective
Learn how to effectively get homework done
Improve test grades
Foster their independence through accountability
Increase their confidence and self esteem
Hear what a student had to say about the Thinking and Doing Skills Center: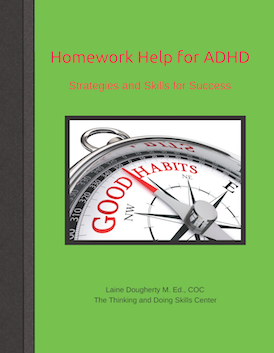 Sign up for our Free Monthly Newsletter and receive the "Homework Help for ADHD" Report as our thank you.
Coaching
Coaching is a partnership designed with your child's strengths, values, goals, and dreams in mind. We believe they are creative and resourceful and have the answers they need deep inside. Coaching uses different techniques to help them better understand themselves and to gently guide them to those answers. Together we design a relationship built on honest communication and trust that provides encouragement, support and accountability so they can achieve their goals.
Organization
Organization includes the ability to organize materials, thoughts, processes, develop a plan and organize time effectively. It is not just about being able to find what you need when you need it. In school, organization is necessary to take good notes, plan out the steps to complete a project, study for a test, write an essay and of course, complete homework.
Teaching
Every student is an individual and learns according to their own preferences. Students who try to learn using a method that does not match their learning preferences or processing modalities often struggle unnecessarily. As a former teacher, I believe it is important for a student to figure out how they learn best and to use that information to design successful methods to study. After all, learning doesn't stop when they graduate high school, it is a lifelong skill.