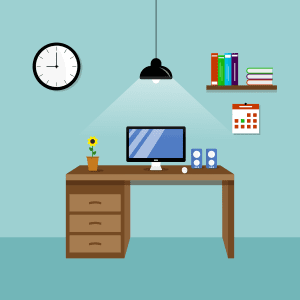 Does your workspace help you focus and get things done or does it just add more challenge to your task? Since we can't add more time to our day, we have to find ways to be more effective and/or productive with the time we do have. Wouldn't you agree? We can start with making sure our workspace (whether it is a counter, desk or small table) works for us and our needs.
Impact of Clutter
Did you know that clutter on your desk can affect your stress level? If your desk is covered in papers and other clutter, it makes it difficult to stay focused on the task at hand, because your attention will keep shifting to the visual clutter. That shift can then interfere with your working memory – you forget what you were doing or that brilliant idea you had, because you were distracted and your working memory lost its focus. Or worse, that pile of unknowns makes you think you have forgotten something important but you can't stop and look now because you are already feeling behind. That would definitely increase my stress level.
Hack Your Space
Clear the clutter – anything you don't need to do the job
Contain the papers in a basket or bin and move them out of your line of sight (don't hide them especially if you are a piler)
Make sure you have good lighting without casting shadows on your work
Does the chair fit you and is it comfortable? (Feet reach the floor?)
Is there an analog clock in sight or maybe you prefer a time timer?
Add something that makes you smile – a picture, photo, plant or your favorite fidget
Brain Hacks
Pick one task – think of it as having a beginning, middle and ending. If you typically stop working before the task is completed or you leave all the supporting documents out after it is completed then you are not working until the end. The end means nothing is left to do or take care of for that task or project.
Start a master task list by categories. This is where you keep track of the things you don't want to forget to do, but it is not your to-do list! (I'll get to that in a minute) Categories such as work, at home, at computer, away from home, etc.
Create a close out the day routine. Each day before you leave your workspace, wrap up what you are doing and if you need to continue it tomorrow, make a note of the next step. Take a look at your master list and decide the top 3 priorities for tomorrow, keeping in mind the beginning, middle and end of each task. Put away what you can and set yourself up for a fast start in the morning.
Check your calendar and your master list – your to-do list should have 3-5 tasks that you want to complete for the next day. Sure, you can do more, but only if you get those things you think are important done first. It's called a REASONABLE LIST.
A weekly reset is an opportunity to clear the clutter, file or recycle those papers, sharpen your pencils, put paper in the printer and blow the dust off your keyboard. Maybe even reboot your computer if it has been a while. Whatever it takes to prevent you from taking last week's problems into next week. You want to start the week off knowing your priorities, your appointments, your kid's schedules and having your week planned out and your desk cleaned up and ready for action.
These strategies can help your children handle their homework more effectively too. Make sure their study space works for them and is not distracting them. For middle schoolers that are using their computers more, you may want to find a way to add another screen for them to avoid having to switch back and forth – saves on working memory and time. Help them use their agendas to keep their extra-curricular activity schedules, appointments and special events as well as, their homework in there each week. That way they can better plan when to study for those upcoming tests and there will be fewer surprises.
The biggest changes may come from just knowing what to do first when you sit down at your workspace. It doesn't matter if you are going to work, working from home or just working on home "work", using your time wisely, reducing distractions and having a plan, will save you time, improve your focus, save working memory space, improve decision making and reduce your stress according to Jim Kwik. Even if you try just one hack, I think you will be surprised at its benefits.