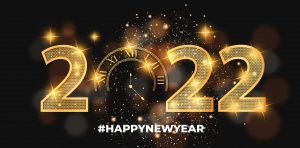 Farewell 2021 – Although I would like to say I am happy to see you go, the reality is that I don't remember much of what happened in 2021. What do you remember from 2021?
I took some time to go through my journal from last year and skimmed through the photos on my phone in order to bring it all back into focus. Don't you just love it when Google reminds you of what happened last year on this date?
The more often we recall those events, the more likely they are to stay in our memories. My planner is another place I look for past events, ideas and recurring themes. You get the idea. I searched for the high and low points of last year and the special moments that occurred and noticed some of the challenges that were sprinkled throughout.
For me, those covid added pounds and blurry work boundaries showed up throughout. For you, it might be disorganization, financial stress or negative self-talk or any number of other concerns. Whatever your top two are, I'm suggesting that you not make a resolution or a complex plan to tackle it this year. We know resolutions don't work and we end up with more negativity and feelings of failure for something that we "feel" we should be able to do.
Let's take another approach. It is a fact that the brain tends to focus on the negative rather than the positive side of things (it's genetic, to protect us). Now let's add in this new thing called, "Covid/Pandemic Fatigue" which is, according to an article on Healthline, completely natural, yet leads to being "demotivated and exhausted with the demands of life during the Covid crisis." You don't need me to tell you that there is more fatigue and negativity all around us – why should we promote it if we don't have to?
New "rule" for 2022, let's focus on the positives! Change just one thing- your approach to each day. There are lots of options, which ones resonate with you?
• Ask yourself, "What can I do today to be more positive or that will add to my day?"
• What can I do today to take better care of myself?
• Keep track of your successes with a Victory List
• What one thing can I organize today? (You know I had to put that in)
• Keep out the ANTS (automatic negative thoughts) that creep in
• Take a photo to capture a positive in your day
• Read an uplifting quote
• Start a gratitude journal
• Go to bed on time!
• Walk away from your work – keep clear boundaries
• Turn off your screens and tune into those around you
If you do have something you want to improve or work on this year, then do it in a positive way and 2022 just may be your best year yet!
Graphic thanks to: 'https://www.freepik.com/vectors/background'>Background vector created by BiZkettE1 – www.freepik.com</a>