E-Learning Modules
Tired of the hassle that homework causes in your home?
Frustrated with the amount of time your child/teen spends on homework?
Disappointed in the grades they receive?
Then now's the time to end the homework hassle with our E-Learning course. Designed for students in middle and high school, each lesson teaches a skill or strategy that will get them organized, coach them to problem solve and teach them the skills to effectively learn. These strategies are delivered daily to your son or daughter through email with a weekly parent email sent to you so you know what they are learning. This course includes, over 45 messages (that's an entire term) and teaches skills such as:
Organizing notebooks, backpacks and thoughts
How to study for tests effectively for better retention and learning
Goal setting and motivation tips
Homework strategies to help those with ADHD or Executive Functioning
Managing long term projects and much more
How can E-Learning help?
Hi, I'm Laine. As a teacher I understand the value of homework to reinforce learning and to foster a child's independence and responsibility. But as a parent, I also know the struggles, the stress and the frustration that homework can cause. It can be a real hassle for both the student and the parent! That's why I developed this program to provide consistent support for your son or daughter while teaching them skills that work. The end homework hassle e-learning course also:
Provides daily reminders and motivation so you don't have to
Fits your child's schedule and yours
Offers the convenience of being done anywhere you can access email
Uses video, email and multimedia messages to engage
Builds confidence and independence
Investment = $97 That's less than the cost of a daily cup of coffee to end the homework hassle and help your son or daughter improve their grades. Investment for two or more children is just $127 .
Any time of year you can give your child the opportunity to learn the skills he or she needs to succeed in school. Click here to sign up for this E-Learning course. Still have questions? Please contact me at info@thinkinganddoingskillscenter.com.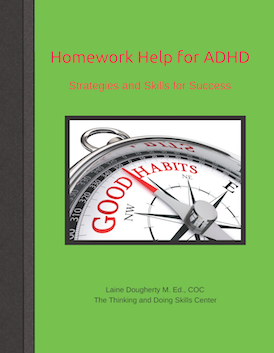 Sign up for our Free Monthly Newsletter and receive the "Homework Help for ADHD" Report as our thank you.
The Thinking and Doing Skills Center is located at 11C Whiting Street in Hingham, MA and provides services to the South Shore and communities south of Boston.