For students with ADHD and Executive function (EF) challenges school can be a continuous struggle. A new school year is about to begin. Do you want to see your son or daughter struggle like they did last year? Don't wait, get your child/teen the help they need to succeed.
In order to be successful in school (or work in the adult world) we depend on certain skills and strategies like goal setting, planning, organization, stress management, and problem solving. We have to be able to focus and control how we monitor impulses in order to make the best choices based on our understanding of our thought processes. Simply put we have to think about our thinking in a logical and practical way and maintain the focus to get the job done. To do this we rely on our executive function skills.
As adults we often take these executive function skills for granted. For teens, they struggle because their EF's are not fully developed yet. Have you ever tried to do something that you knew you didn't have the skills or knowledge for? That's what it feels like for teens every day.
Wouldn't it be nice if your teen could learn strategies that would help them problem solve and develop strategies to help compensate for weak, underdeveloped EF skills? Well they can!
I created this program to help students learn about their Executive Functions (EFs) and develop strategies that work for the way they think. Our 4-session class uses hands-on activities to get teens to problem solve, develop strategies and test their theories in a safe, nonjudgmental class with their peers. Teens learn best from other teens (with guidance of course). We will also discuss social situations and self advocacy.
Who am I to offer this? My name is Laine Dougherty and I am the owner of the Thinking and Doing Skills Center in Hingham, MA. Although the name of the business has recently changed, I have been helping students (and adults) with executive dysfunction, ADHD, and organizational challenges for over twelve years.
Before that, I taught in public and private schools for over 18 years. I continue to work as an Educational Consultant in the public schools working to help teachers and Deaf students meet the challenges of a fast paced school day. This allows me the opportunity to observe different grade levels, subject areas, teaching styles and districts. I also consult at IEP and 504 team meetings and create goals for students and provide feedback and strategies for teachers. I know what is expected of your teen and can help them meet those challenges.
I believe every student wants to do well but sometimes they just continue to work the same way they have always worked and wonder why there is no improvement. As a certified Organizer Coach and experienced educator I combine coaching with teaching and organizational strategies to cover the major challenges students face. Every student is different and this class focuses on guiding them to discover and problem solve their biggest challenges.
Think about how this past school year went.
Was your teen able to handle the homework, projects and tests? Were they overwhelmed, frustrated or difficult to deal with?
Did you hold your breath each time your teen said they "studied for a test" and felt that they did well – only to discover later that they did not?
Is your teen capable of higher grades than they received?
Did you watch your teen spend hours on homework only to find out that they never passed it in?
The above questions are all about Executive function skills like planning and organization, working memory, task completion, cognitive shift and attention. Teens can be so overwhelmed with all they have to do, that they rely on habits they established in elementary school when they didn't need to study and had minimal homework compared to what they have now. These "old" habits are not effective but teens do not know how to change them so they continue to do things the same way. This class will help them look objectively at how they do things and help them determine where the weak links are and together we will develop new, more effective strategies to deal with planning, organization, time management, attention, and the stress they experience. These skills will then help them master their homework and study skills for greater academic success.
Here's a glimpse at some of what the upcoming four week class will cover:
Week 1: Growth vs. Fixed Mindset and why it is important for anything you want to succeed at.
Self-Awareness and Introduction to Thinking Skills
Organize this! (Activities around organization whether it's materials, plans or ideas)
Planning and problem solving
Week 2: What is the difference between focus and attention and how to monitor and maintain it?
Impulsivity and Monitoring
Time Management – What is it really and how does it relate to the present and future?
Working memory – What is it and development of strategies to help compensate?
Week 3: Metacognition and Cognitive Flexibility
Emotions and stress
Persistence and perseverance
Thinking about your process and when to change your approach (Cognitive flexibility)
Week 4: Learning Skills and Study Strategies
Active learning strategies
Differences between learning and memorizing
How to study
Each class includes interactive, hands-on activities, problem solving, an executive function skill focus (I'll call it a "thinking" skill) and strategy development with an accountability option.
Class for Middle school students meets Mondays at 4pm on November 4, 18, 25 and December 2, 2019.
For High school students, classes are Mondays at 7:00 pm on November 4, 18, 25 and December 2, 2019.
Each session is 60 minutes long and I am available after class for extra questions from students or parents. Our office is at 11C Whiting Street, Hingham, MA 02043 conveniently located at the intersections of Routes 228 and 53.
Is this class right for your teen? The student that thrives in this class is motivated and wants to do well yet struggles with organization, time and project management, problem solving, flexible thinking and is often not getting the grades he or she is capable of. Whether your teen has worked with me in the past or is new to the Thinking and Doing Skills Center, this class will help them:
Set goals and plan out a logical approach to reach those goals
Research ways to remember what is important
Identify weak skill areas and develop strategies that work for the way they think
Learn a process to problem solve that includes things to watch for and when to modify that plan
Monitor their thinking and emotions and adjust when necessary
Develop ways to increase their focus and learn what needs their attention and what does not
Learn how tenuous goal setting, planning and organization, focus, metacognition, working memory and stress can effect academic performance
If this sounds like something your teen could benefit from but you are still not sure, then please email me your questions or concerns at: info@thinkinganddoingskillscenter.com or call/text me at (617) 827-6860 for answers.
Class size is limited to six to allow for individualized attention and personalized learning. Click below to register now for either the class for your middle school or high school student. Investment is $197 for the four session class. That is a savings of over $100 based on our individual hourly rate! Register today!
Our Guarantee: If for some reason after the first class you or your teen feels that this class is not helpful or is not meeting the above expectations, then we will gladly refund your payment or work with you individually to meet those expectations. We want every student to be successful.
Still not convinced that this is the class for your teen? Here's what others have said after working with us:
"Ask Laine about strategies because she is very good at those."  K.P., Grade 10
"Laine is helpful and nice and pleasant to be around." M.L. Grade 7 (This student has increased his ability to focus in English Language Arts by more than 75%)
"Laine is amazing at what she does! Very educated, empathetic and also willing and able to go the extra mile!" L.R. Parent of 6th Grade student
"Definitely try this class if you have trouble with remembering, organizing or getting homework done."  S.M. Grade 7
Here's a link to a blog I wrote on Executive functions that further explains how EFs can interfere in your teen's success.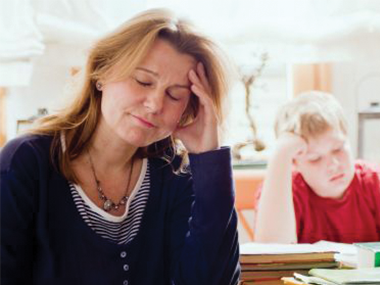 If your teen is just as tired, frustrated and stressed about school, homework and their grades as you are, then offer them the opportunity to find a better way. We are already half way through term 2. Life is stressful enough and we are asking so much more of teens than ever before.
Don't they have a right to learn how to be organized, effective, self-directed learners?
These strategies are not taught in schools and teens do not know a better way…until today. Sign up and watch your teen become more independent, while improving their ability to learn and maybe even their attitude.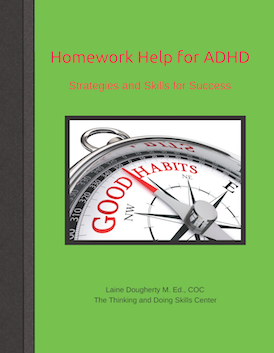 Sign up for our Free Monthly Newsletter and receive the "Homework Help for ADHD" Report as our thank you.
Recent Posts