About Us
Do you wish that you were "born organized?" Being organized is not a genetic trait that only a few people are born with. It is a set of habits that can be learned by anyone at anytime.
A young, sleep deprived mother of two small children ages 2 years and 3 months was having a difficult week. Her husband had been working the night shift the previous week and the laundry, dishes and cleaning had piled up while she tried to keep the children quiet so he could sleep.
There were dishes in the sink and on the counters, laundry piled on every chair and toys were strewn across the floor. On that cold, February morning she had vowed to clean things up but the children were not cooperating. Then the doorbell rang. Her first instinct was to pretend they were not home but as she turned around to look for the two year old, he was already opening the door. Too late to hide now, she forced a smile and welcomed her friend into the disaster area. She made excuses for the mess and even blamed the children but deep down inside she knew this was not how she wanted to live. This was not the kind of mother she wanted to be. That was the day that changed my life!
From that moment, twenty five years ago I set out on a path that would change my life and the life of my family. I learned that there is no one "right" way to be organized and that each person has to find what works for them, and sometimes it is not just about "clearing the clutter". It goes much deeper and coaching can help you get to the bottom of it and figure out how to live the life you dream of.
Current Workshops:
7 Steps to School Success – How parents can help their child succeed in school.
Organizing 101 – Starts you on your way to an organized life.
Tackle and Tame Your Mountain of Paper – How to handle the papers of your life.
Learning Logistics – teaches study skills, time management and organization skills to students.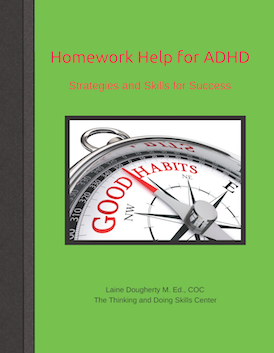 Sign up for our Free Monthly Newsletter and receive the "Homework Help for ADHD" Report as our thank you.
The Thinking and Doing Skills Center is located at 11C Whiting Street in Hingham, MA and provides services to the South Shore and communities south of Boston.