Adults
Are you feeling frustrated, overwhelmed or stressed due to disorganization, clutter, time management or ADHD challenges?
Have you tried to "get organized" before only to have things slowly slip back to the way they were?
Are you frustrated that no matter how "busy" you are each day, you don't seem to have enough time to get the important things done?
Do you feel like you have put your needs and dreams on hold?
If you answered "yes" to even one of the above questions then you have come to the right place.
At the Thinking and Doing Skills Center we believe that everyone deserves to live the life they dream of. If you don't know where to begin, or have tried before and were not successful then maybe it is time for a different approach. We will help you discover what it is you want, what is getting in the way of you achieving it and together we will develop a plan to help you achieve it. I believe you have the answers inside you, and we'll uncover them together.
Our approach centers around coaching to support you on your journey whether it is to get organized, be more productive, understand ADHD and Executive dysfunction or to support you as you reach for your dreams. Sessions are held in our office or over the phone (or via Skype or Google Hangouts) in 60 minute sessions.
Are you ready for a change? Then don't wait, contact us today! Let us help you live the life you dream of.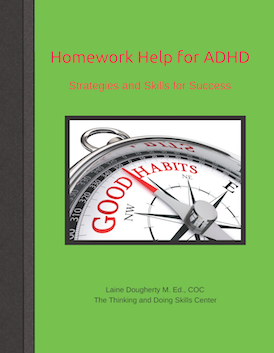 Sign up for our Free Monthly Newsletter and receive the "Homework Help for ADHD" Report as our thank you.
Coaching
Coaching is a partnership designed with your strengths, values, goals, and dreams in mind. I believe that you are a creative and resourceful person and that deep within you, you have all the answers you need. Coaching (whether on site or over the phone) uses different techniques to help you better understand yourself and to gently guide you to those answers. Together we design a relationship built on honest communication and trust that provides encouragement, support and accountability so you can achieve your goals.
ADHD Coaching
ADHD Coaching can help you identify how ADHD or executive function challenges are impacting you and help you make and maintain the changes you want. We understand ADHD can be challenging but it is not an excuse. You can make changes and we can provide the support you need to be successful. Or if you prefer the support, friendship and accountability of a group of like-minded individuals then click here to find out about our group coaching classes.
Organization
Being organized is not something you are either born with or without. It is a set of habits, systems and strategies that work for the way you think. There is no "one" way to be organized as everyone has their own preferences. We work with you to discover those preferences and together we design and implement manageable changes so you can experience success.
As a certified Organizer Coach® I have a unique combination of skills that can help you transform clutter, master time management, design effective systems and get your life back on track.
Productivity
Being productive is not just about getting things done. It is about getting the RIGHT things done at the RIGHT time. It encompasses other skills such as; goal setting, planning, decision making, prioritizing, task management, and maintaining boundaries around your time to protect it. Being more productive also means you may need to make some changes such as learning new skills, developing new habits and/or setting up new systems.
If you are ready to realistically start getting the important things done then contact us today!